Congratulations to the PHS Wrestling Team for qualifying for the State Playoffs following their 3rd Place finish in the Region last night. The team will compete next Saturday in Round 1 of the Playoffs in a site TBD. Congratulations PHS Wrestlers and Coach Bost on a great season and good luck in the Playoffs! Go Blue Flame!

Our 4A State Championship Volleyball Team was recognized tonight by the SDPC School Board for their Championship season! Congratulations again ladies, we are so proud of you! #goblueflame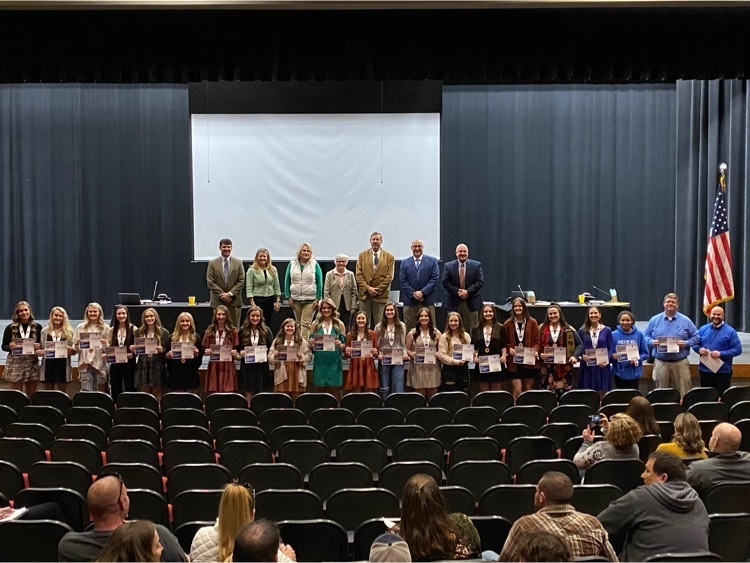 Covid-19 Testing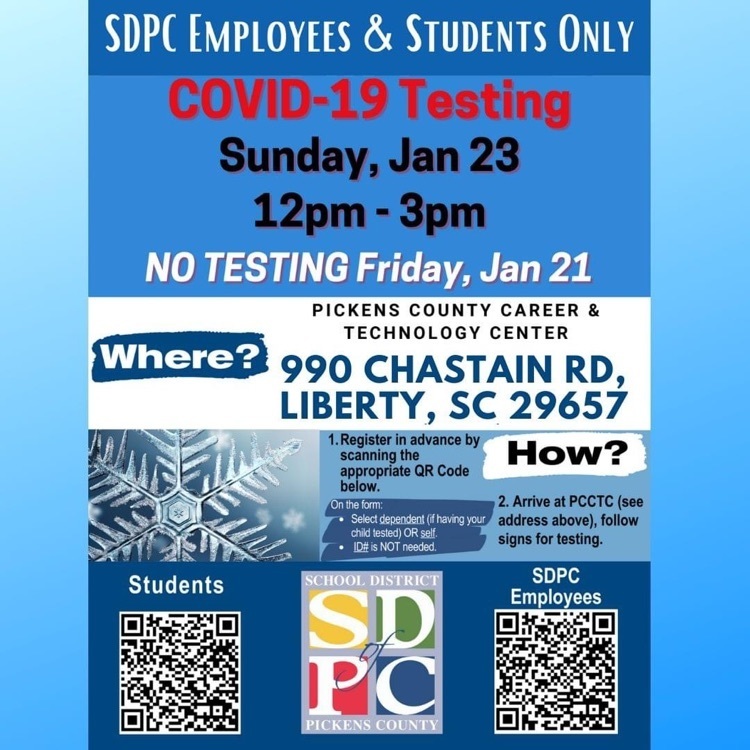 Congratulations to our Female and Male Scholar-Athletes of the Week: Frenchesca Looney and Wyatt Reeves Frenchesca is a member of the JV Cheer team and Wyatt is a member of the Varsity Basketball team. Student-athletes were recommended by their teachers, and a committee reviewed the nominations to determine this week's recipients. We are proud of our student-athletes for demonstrating excellence in the classroom! #goblueflame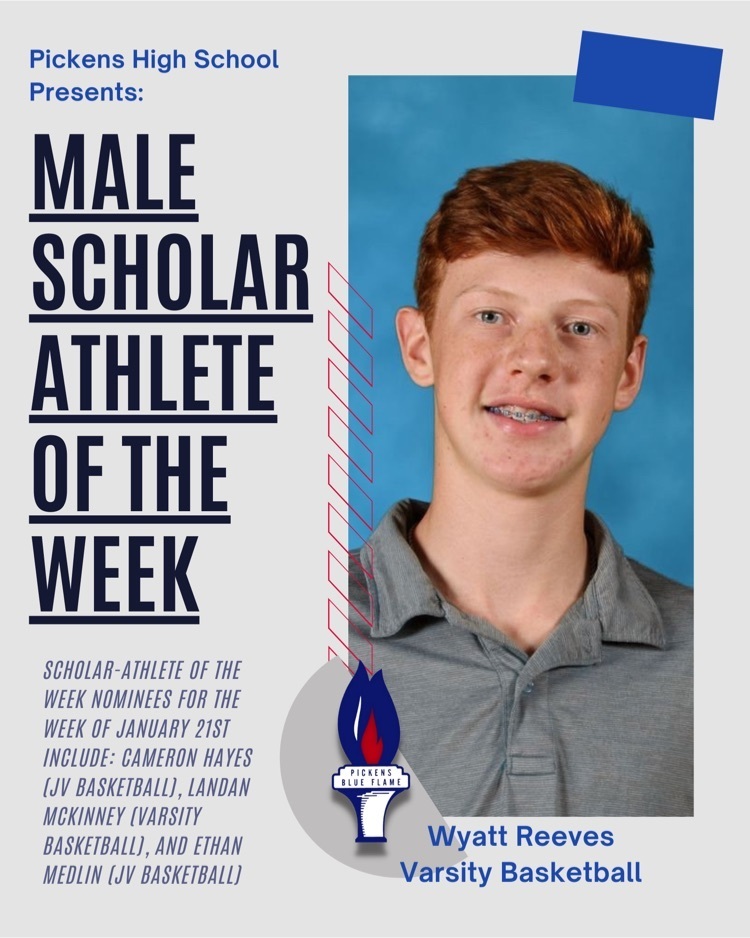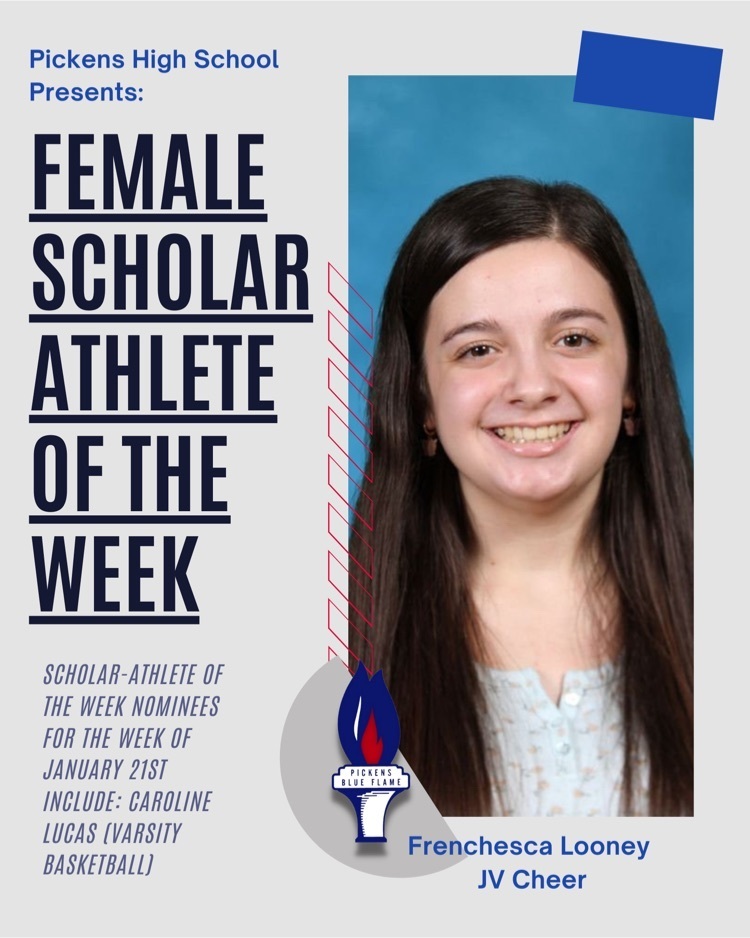 The School District of Pickens County (SDPC) will open on a two-hour delay on Thursday, January 20, 2022, due to the continued danger of ice on shaded areas and on secondary roads. The two-hour delay gives additional time for ice to melt off the roads and will improve visibility for drivers. -- Morning 3K and 4K classes are canceled. PM classes operate on a normal schedule. -- No Buses on Icy Roads -- High school students (including Career Center) should check their Schoology messages for adjusted class times and bell schedules.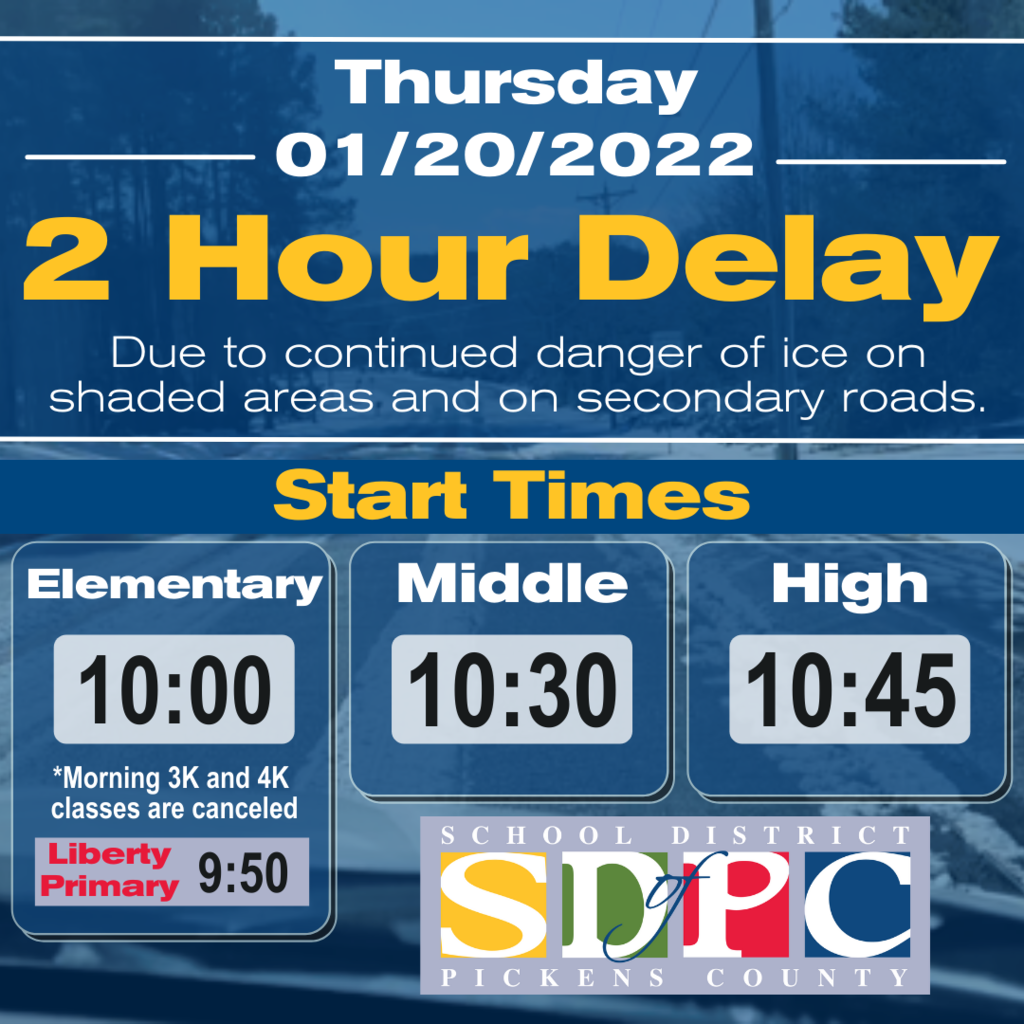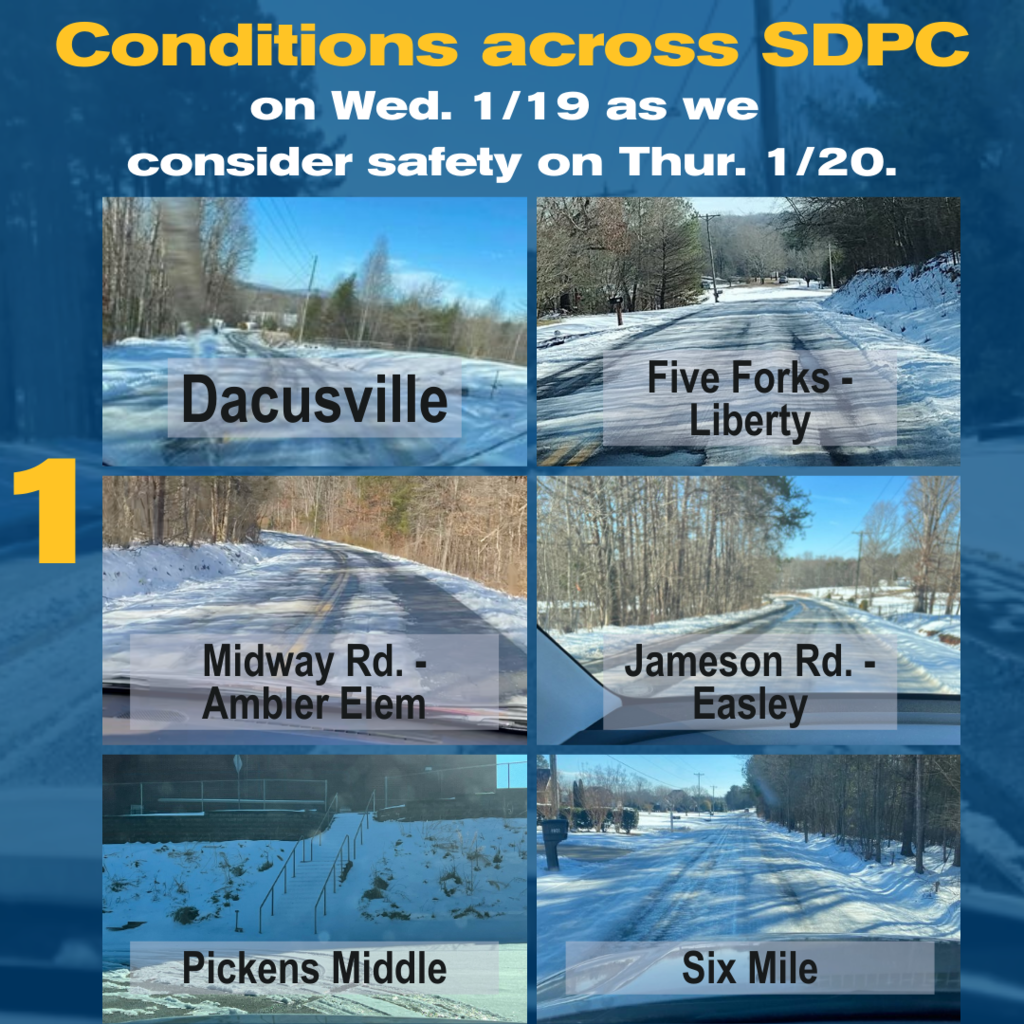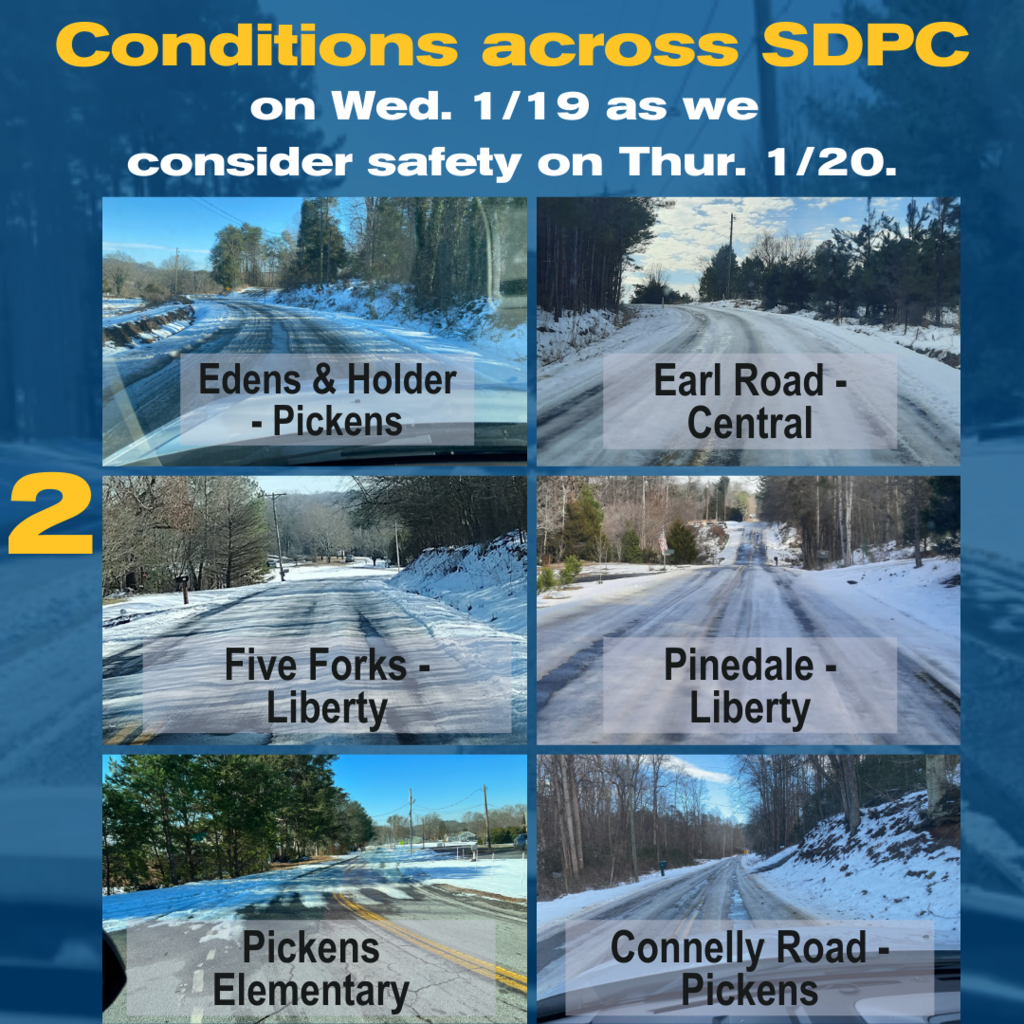 Wednesday, January 19, 2022 will be a Digital Learning Day for the School District of Pickens County due to the continued danger of icy roads. Students will not attend school in-person. While there are areas in our county that have improved, there are many shaded areas that continue to have noticeable ice and black ice on roads. Temperatures are expected to drop again tonight and are not predicted to rise above freezing until after 9:00 am. Even with a delay, transportation would have to occur on the roads prior to this time.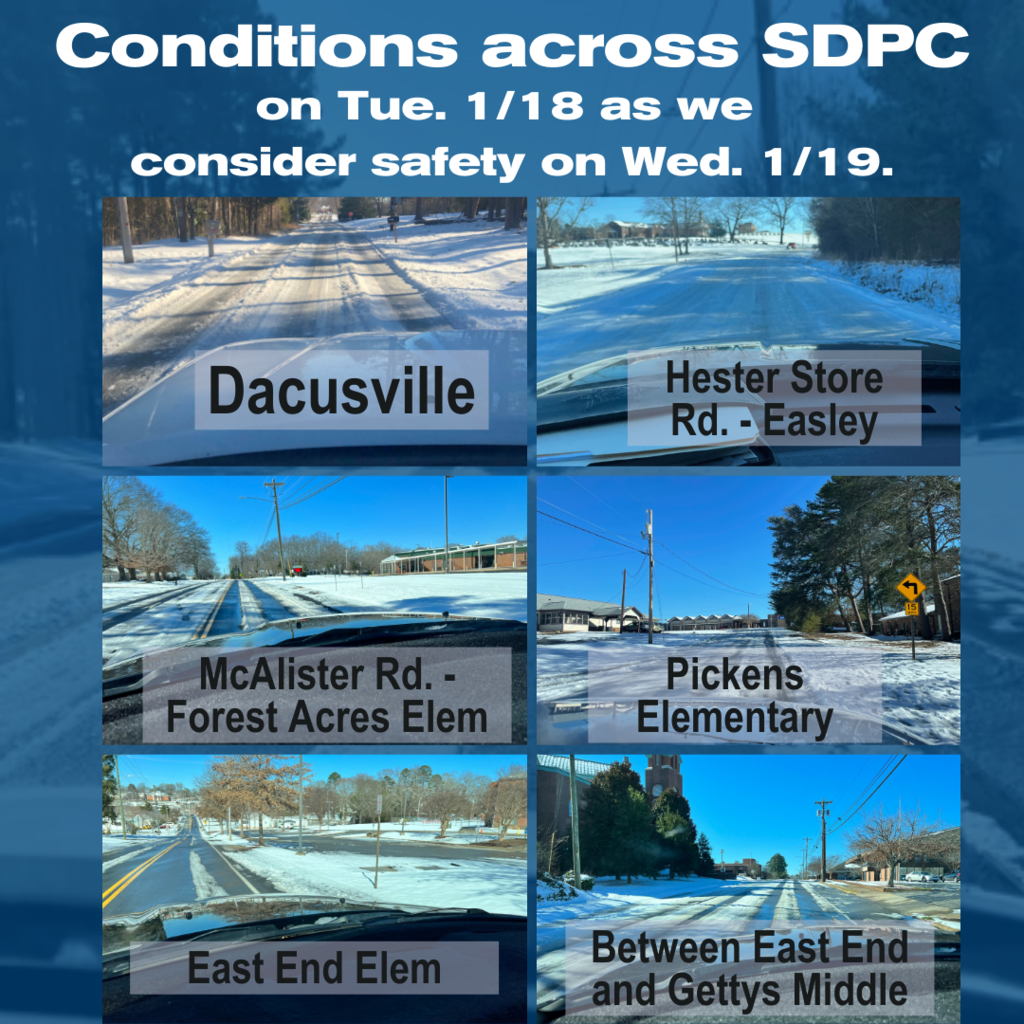 Tuesday, January 18, 2022 will be a Digital Learning Day for the School District of Pickens County due to icy roads. Students will not attend school in-person. Temperatures are expected to drop into the teens tonight following the snow, sleet, freezing rain from yesterday. Noticeable ice and black ice on roads throughout the county is a serious concern tomorrow morning. We will make a decision regarding school for Wednesday (January 19, 2022) on Tuesday evening.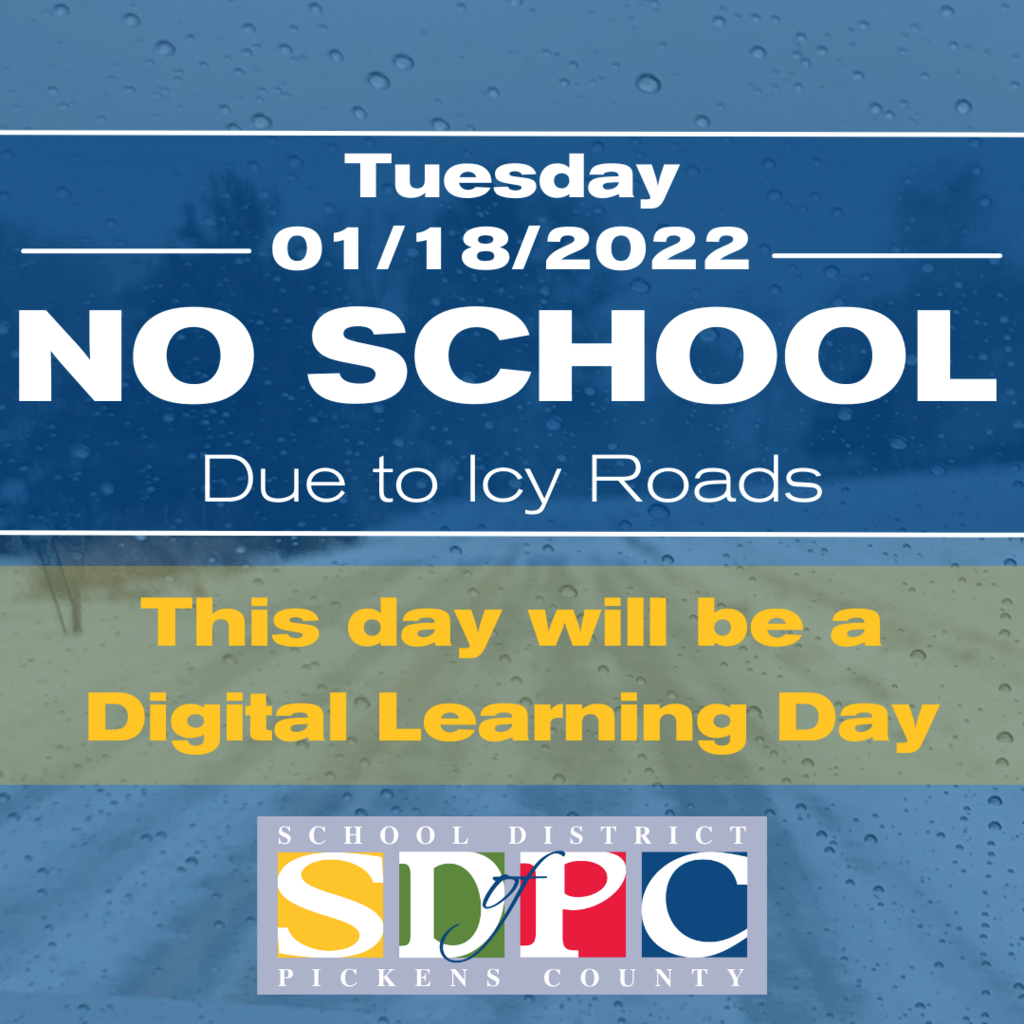 Save the Date for Kindergarten Registration! It's almost time for 3K, 4K, and 5K students to enroll for the 2022-23 school year! SDPC will start registration for the 2022-23 school year beginning in February. Parents can begin the registration process online now by entering their information into the New Student Gateway:
https://www.pickens.k12.sc.us/page/new-student-gateway
Schools will use this registration to contact parents of potential 3K and 4K students to set up screening appointments. More information regarding 3K and 4K programs for the 2022-23 school year will be available in February. For answers to common registration questions, visit our website at:
https://www.pickens.k12.sc.us/page/registration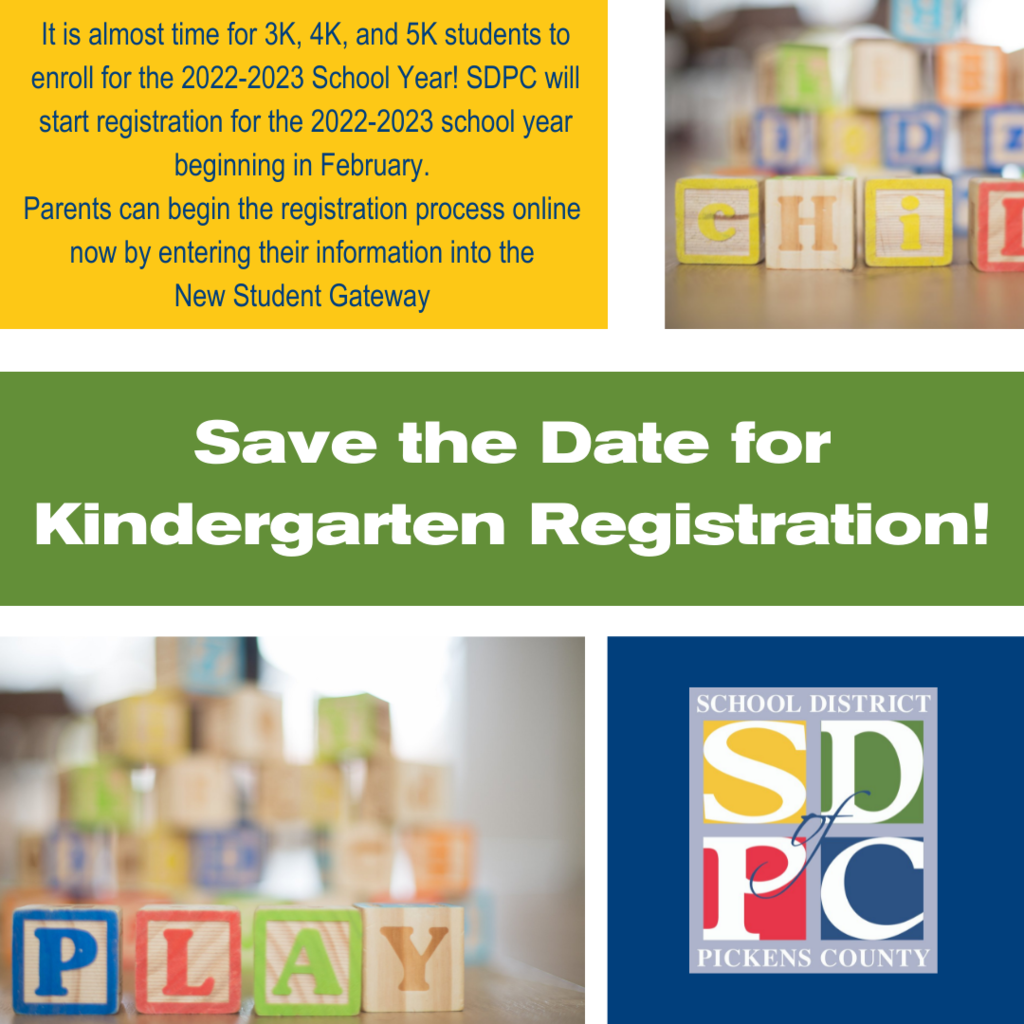 A note from Dr. Ashley Butler, our newspaper advisor: "We would love your help as a Sapphire sponsor! Please use the QR code for anyone wishing to donate to the newspaper to help us cover the costs of publication.  The staff wanted to have a print copy available this school year, and we have partnered with Hiott Printing to make that happen for our readership. I am incredibly impressed with my staff thus far and cannot wait for the publication of our first edition of the school year. Thank you in advance for your donation."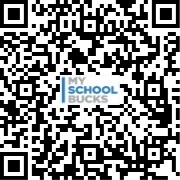 Attention All Students: Our yearbook index and portraits are organized by students' names in PowerSchool. Any student who does not go by his/her full first name and wants a name other than his/her legal full first name under his/her yearbook portrait should complete this Google Form and submit:
https://forms.gle/joVeHNL4AVpvWFfH9

Happy Holidays to all of our Blue Flame family! Wishing you peace, love and joy this holiday season!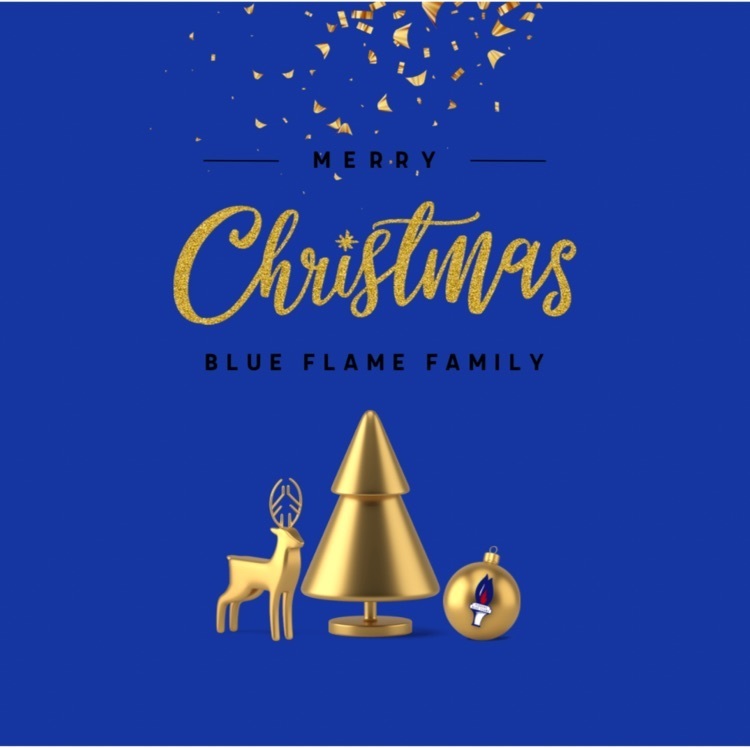 Tonight our band booster club is having a gift wrapping fundraiser. Come by the band room between 6 and 9pm to support our band.

Our Fine Arts Department put on an amazing Holiday Showcase today for our students, faculty and staff. The audience was treated to some drama from Mr. Reid's students, including some fun improv games. The band also performed multiple songs and Dr. Hicks and Mrs. Ginn showed off their students' pieces of art on the wall of the auditorium. We are so proud of all of our talented Fine Arts students.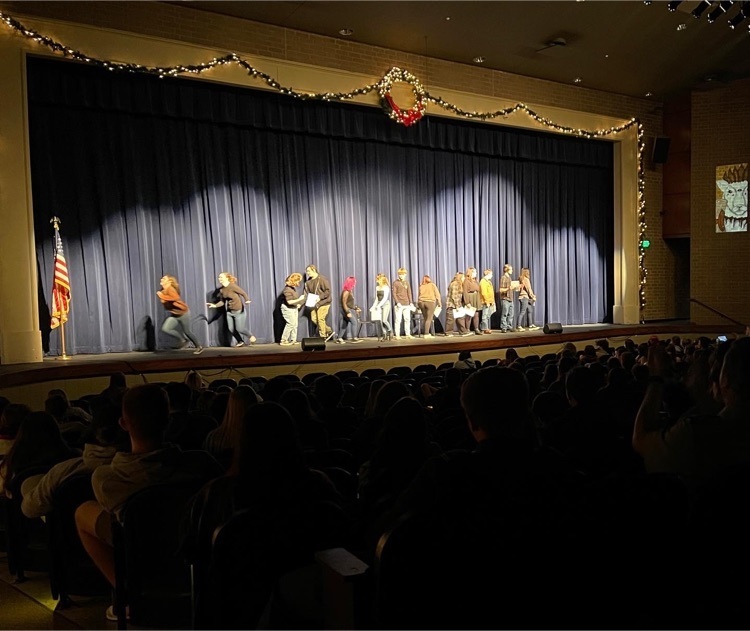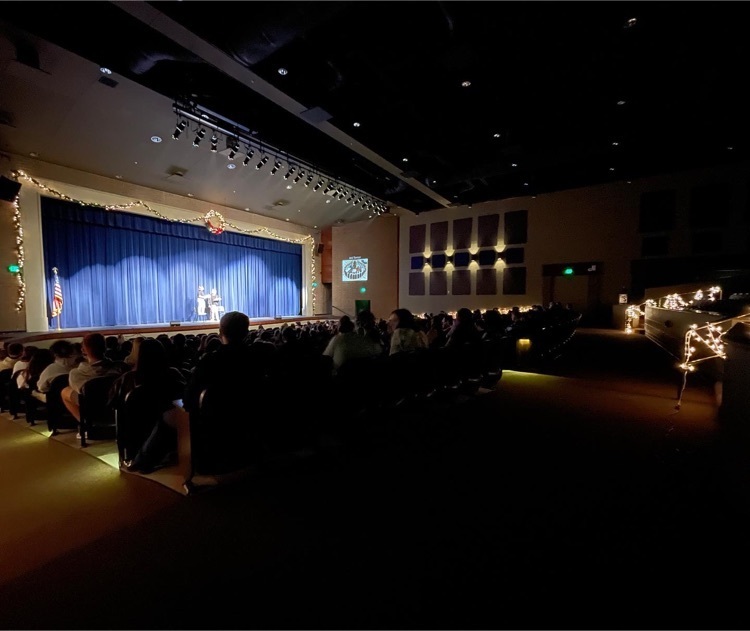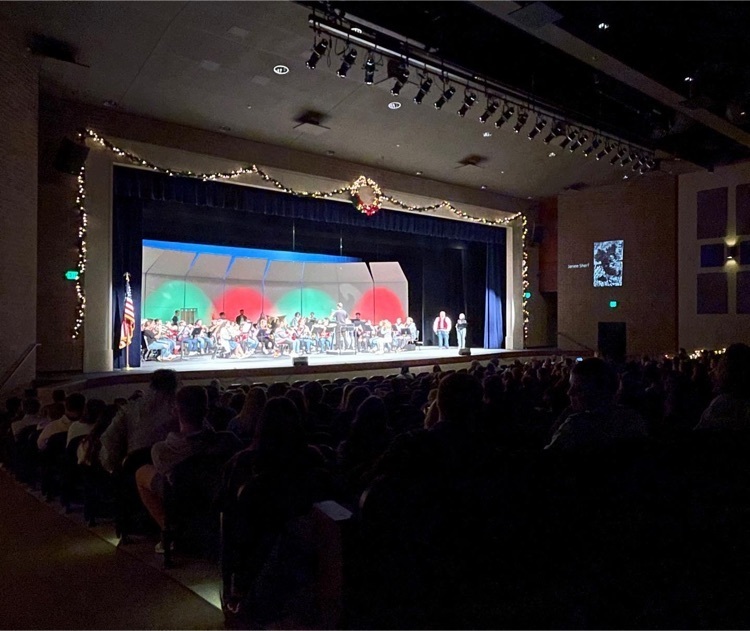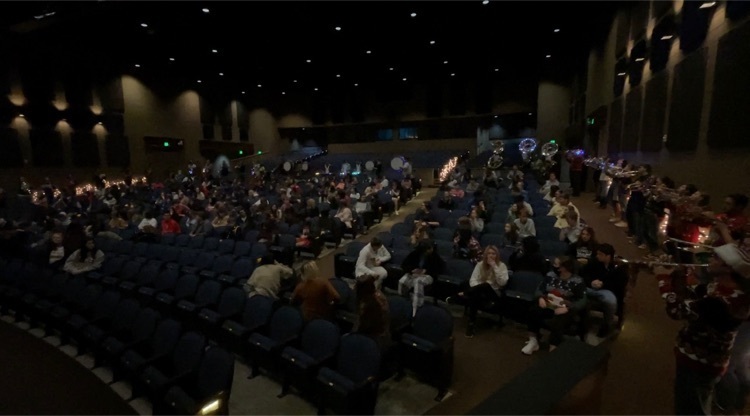 Mr. Richards, Mr. Armock and the band put on an excellent Winter Concert tonight! ❄️ Congrats to all who performed on a job well done! 🎉

Congratulations to Autumn Barnhardt who signed her NLI with Southern Wesleyan University this morning to continue her education while playing softball next year.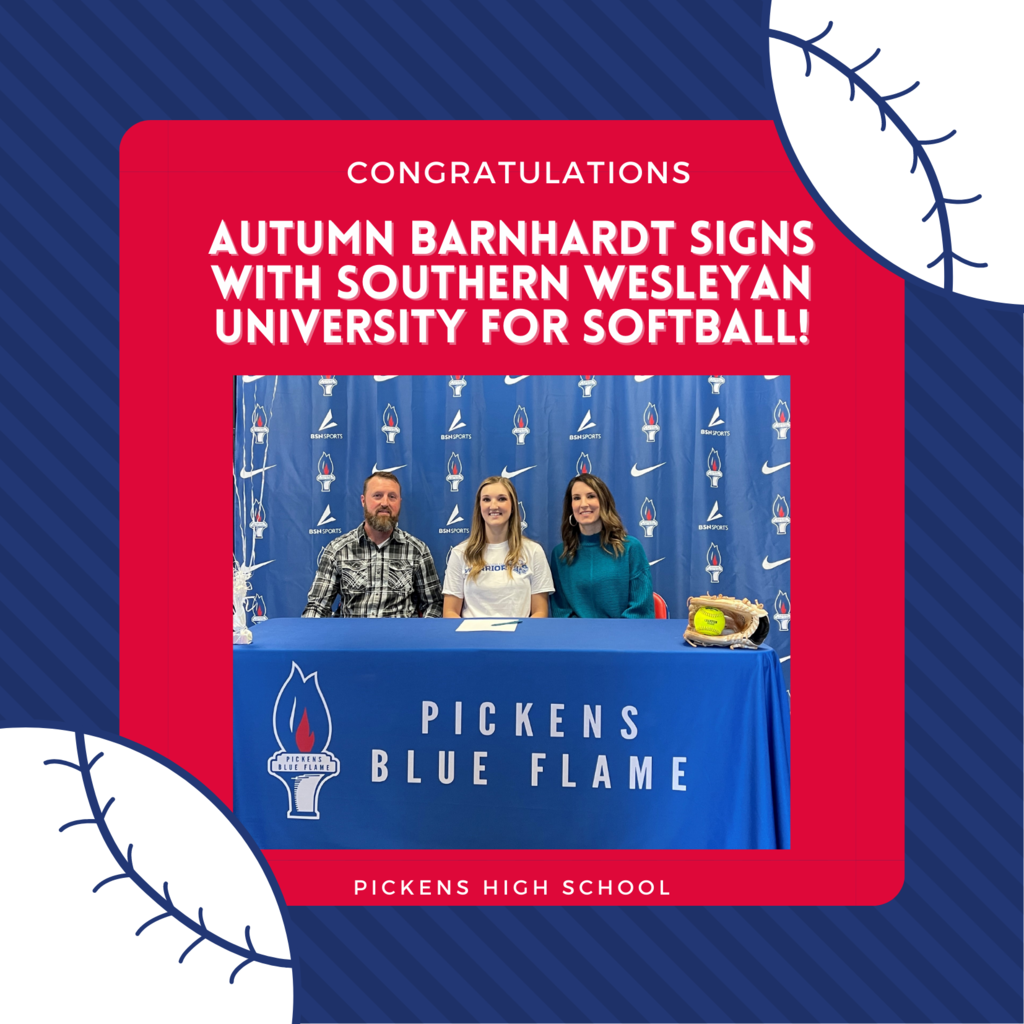 A number of our PHS students made an appearance in the Pickens Christmas Parade this afternoon, led by our State Volleyball Champions as the Grand Marshal!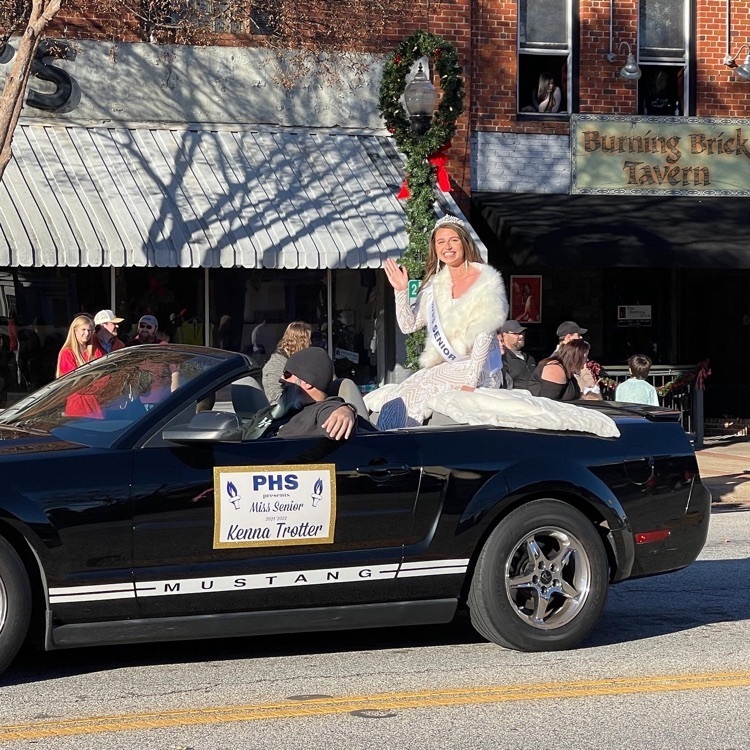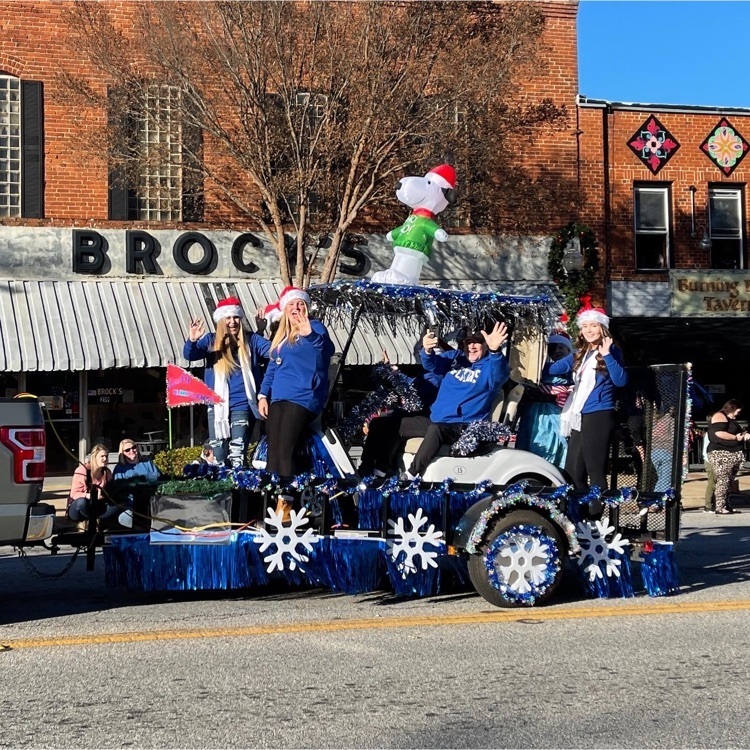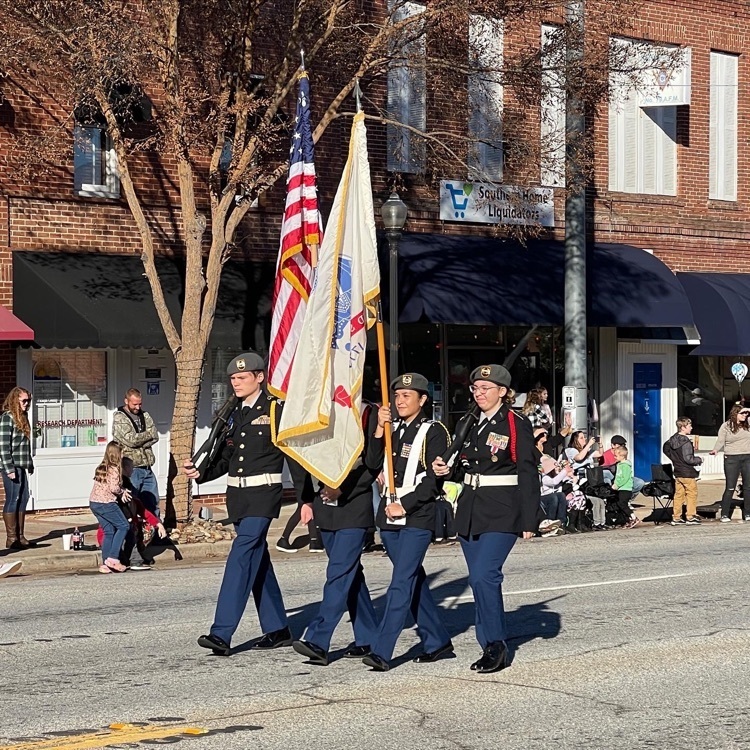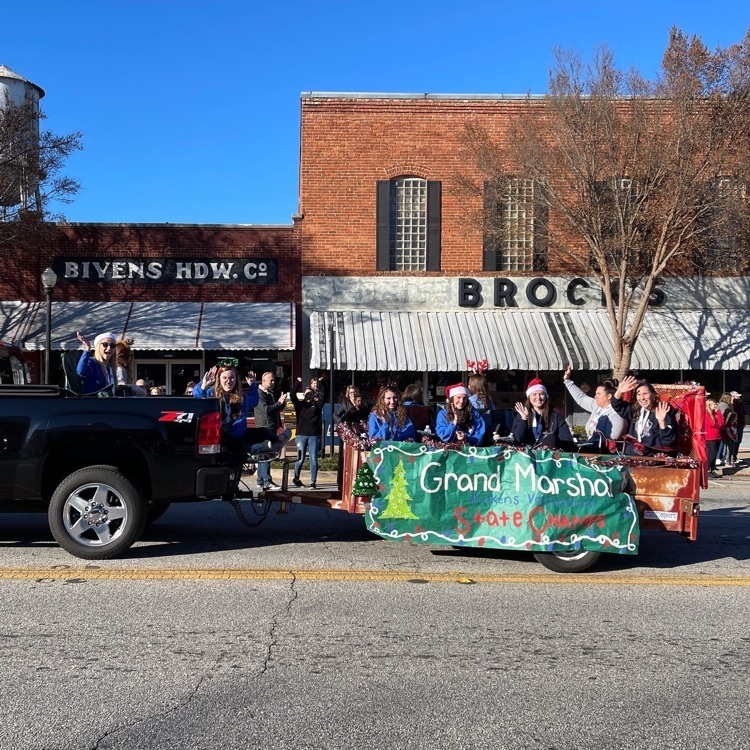 Congratulations to Junior Athletes Jaden Jackson and Sammy Edwards for being chosen to participate in the Inaugural Joanne Lanfitt Junior Showcase at Myrtle Beach High School yesterday, December 10th.  This event targeted the top 88 rising senior football players across the state and it was a huge honor to be invited. #goblueflame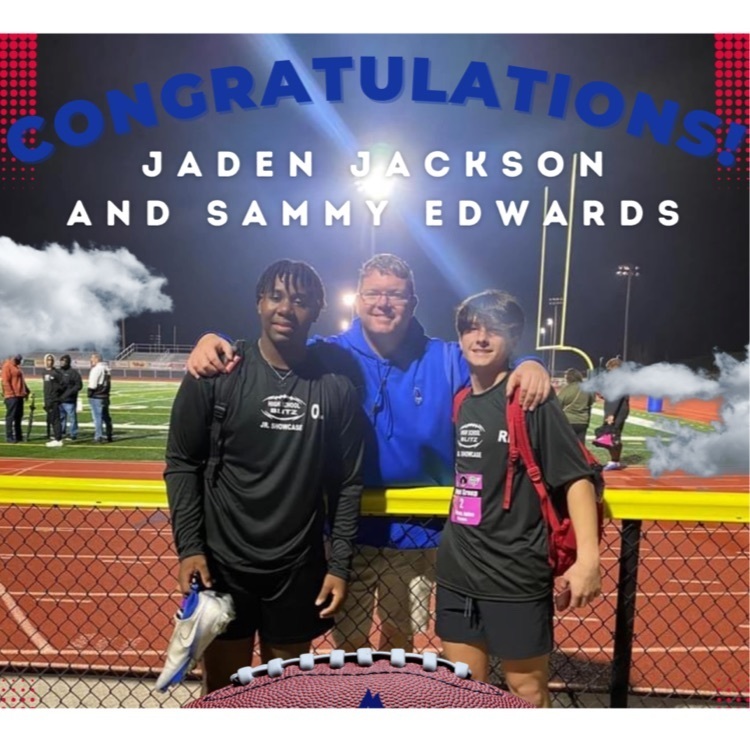 Congratulations to Kaylen Kelley for winning this year's Miss Merry Christmas! All items donated from Kaylen and other participants will go to the Country Santa Organization! If you would still like to donate to Country Santa, you can bring your donations to the high school!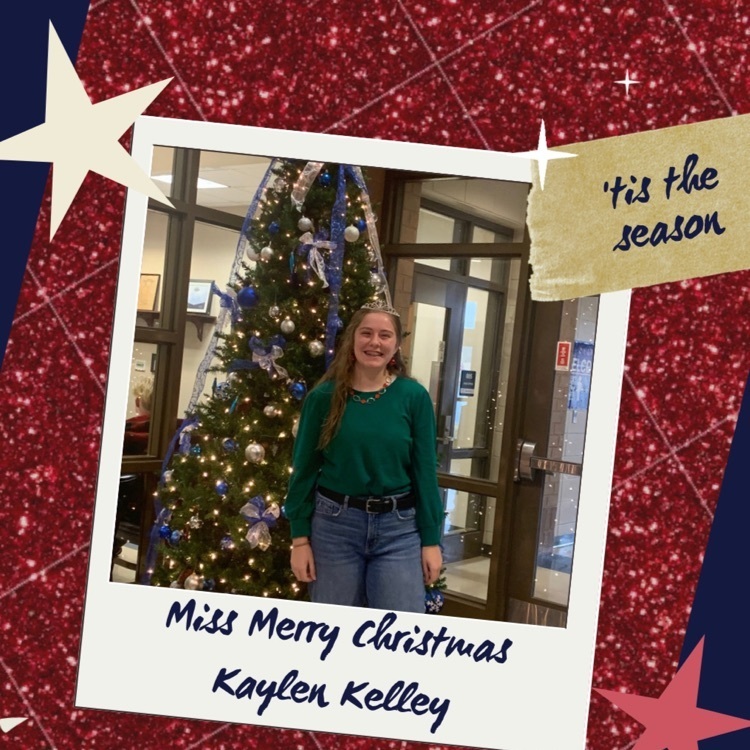 Reading with the Blue Flame continued this week with several of our winter sports athletes reading to students at PES. Participating student-athletes were Coley Gillian (Basketball), Jacob Santeler (Wrestling), and Hanna Woody (Cheer). Partnering teachers were Mrs. Erin Hunter, Mrs. Jennifer Patterson, and Mrs. Stacie Seaborn. After our student-athletes read festive Christmas books to their elementary friends, they were able to field questions ranging from "How tall are you?" to "What's your favorite Christmas song?" posed by inquiring minds in their audiences. Special thanks to Mrs. Williamson and Mrs. Winchester for their help selecting books and for the use of the Media Center.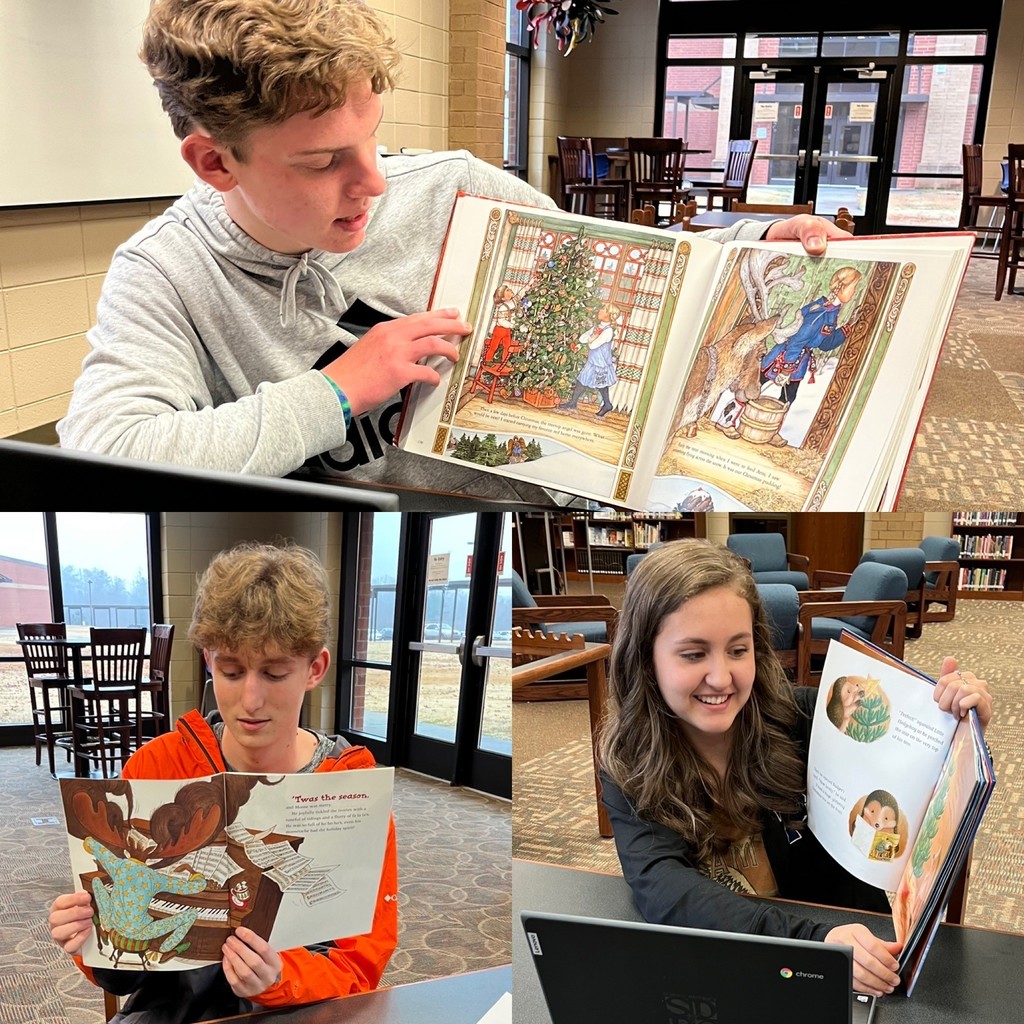 Christmas Spirit Week starts Monday!! Stop by Mrs. Hammond's Room, Room 158, if you would like a paper schedule with all the details or check Schoology! Hope to see everyone participate!