Congratulations to Katelynn Halbert and Gracie Ellenburg, members of "The Beamer Club," who won the Skills Competition and the VEX Robotics Competition today! #goblueflame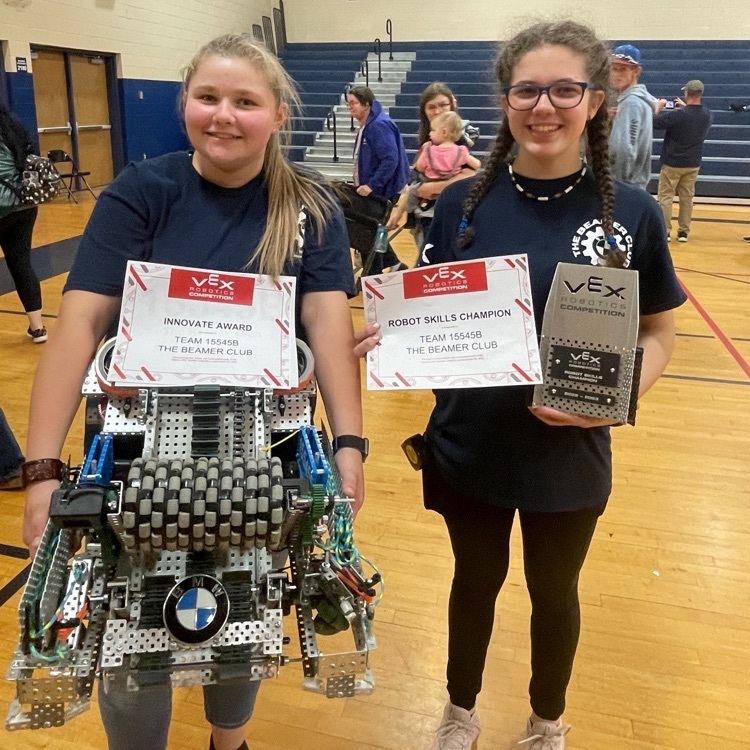 Happy Thanksgiving! We are thankful for all of you! 💙🔥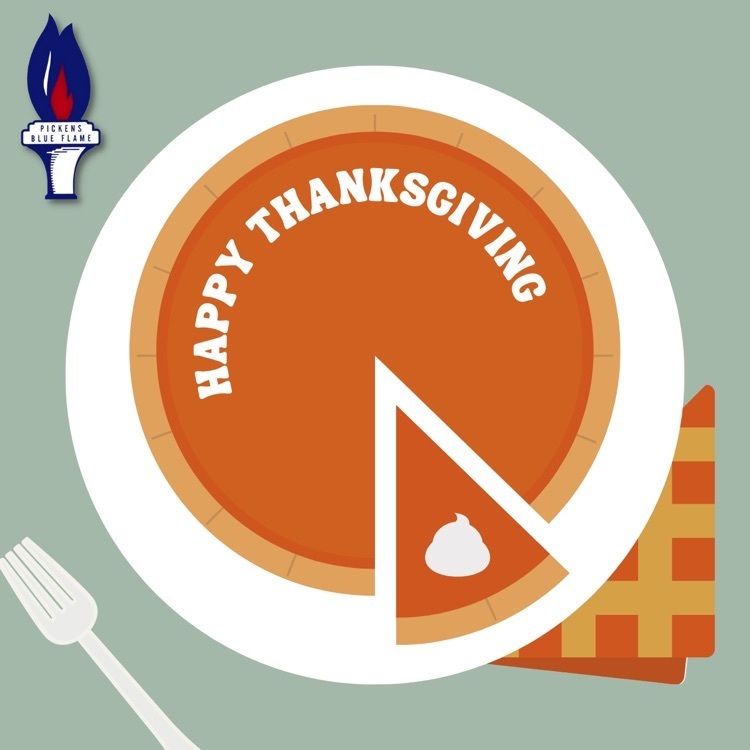 The PHS Band is having their annual gift wrap fundraiser. See more information below. Also, SANTA WILL BE HERE! Come see Santa on Dec. 3, get your gifts wrapped and support our band program!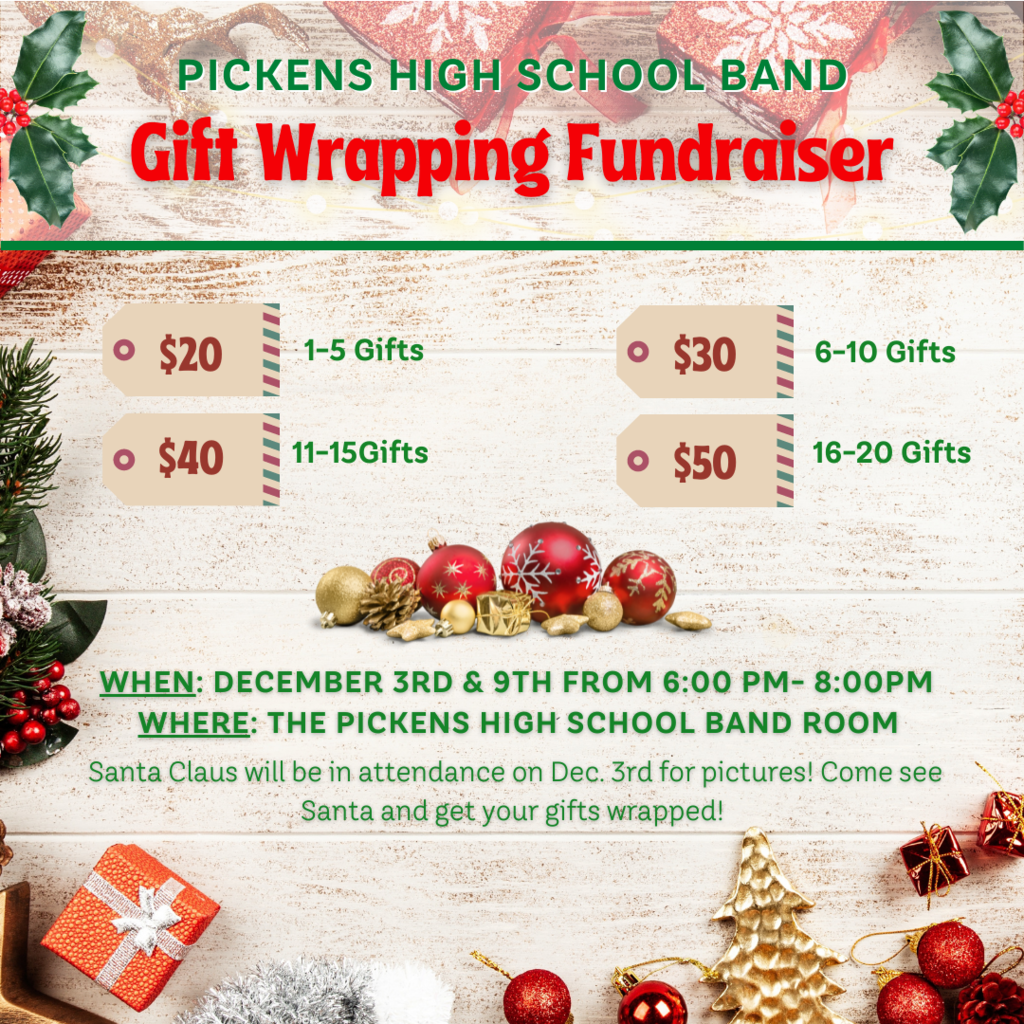 The Dream Center Resale Store Pickens has co-partnered with the PRIME Transition program over the past year to provide real world vocational training experiences in retail skills. PRIME instructor, Mr. Tod Tomlinson was asked to speak at their Dream Big event this week. Pickens High School is very thankful for the hard work Mr. Tomlinson, Mrs. Croker and Mrs. Wright have put into this program and their students! Read More:
https://pickenscosc.sites.thrillshare.com/o/phs/article/912037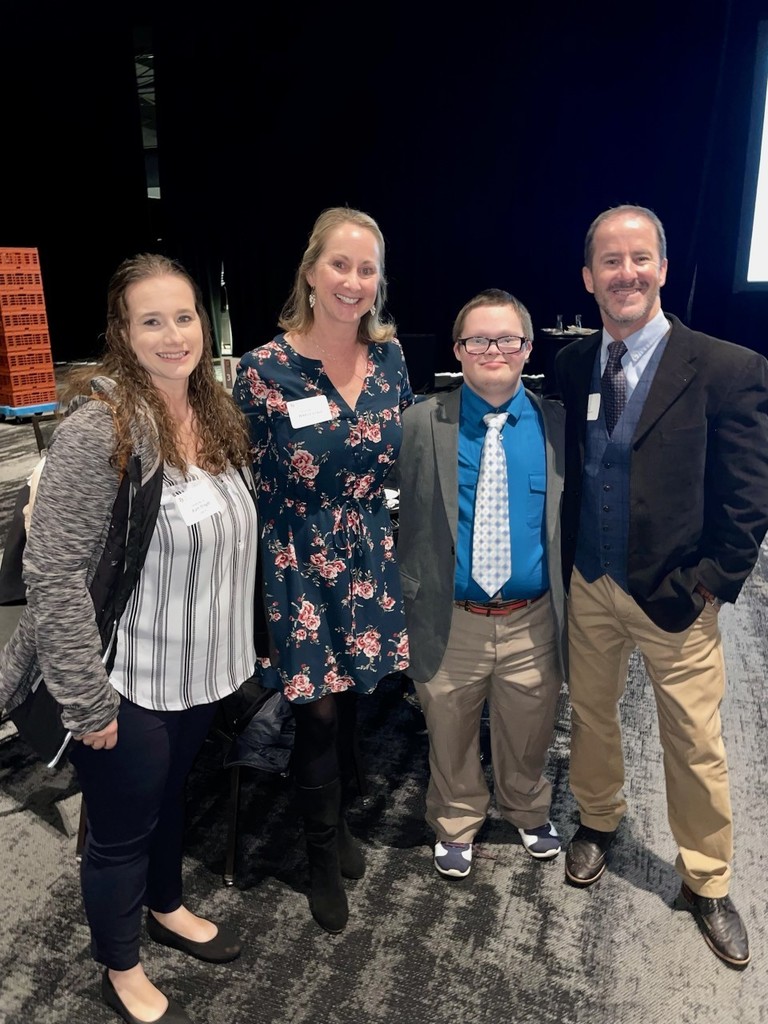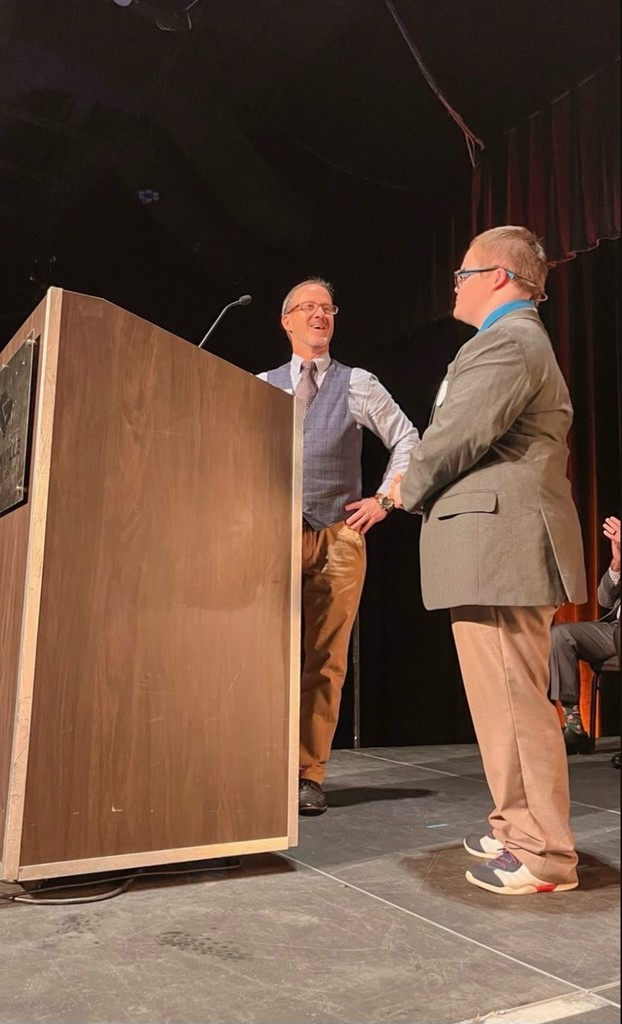 EOC Testing Announcement: During EOC testing, students may not be in possession of any electronic devices that can be used for communicating, timing, creating images, or storing images. These devices and all belongings will be placed at the front of the room during testing.

Come Tuesday, November 15, at 6 PM to learn more about the SC Governor's School for Science and Mathematics Accelerate program. We will meet with Dr. Zaria O'Bryant from GSSM at 6 PM at the SDPC District Office to discuss the details of the program and your questions about the application process.

The Miss Gem pageant will be this Saturday, Nov. 19 at 6pm in the Pickens High School Center for Performing Arts. Elvis will be in the building for an Evening in Graceland as 31 ladies compete for various class titles including the title of Miss Gem. No tickets will be sold at the door; tickets MUST be purchased in advance through Ticketleap, and sales end at noon on Saturday. You do not want to miss this Evening in Graceland, where our contestants and Elvis are going to rock the stage!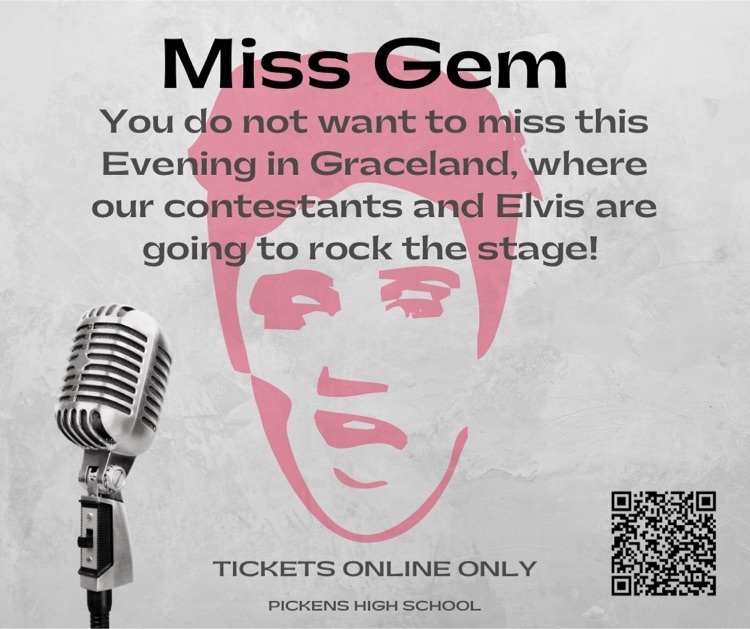 We had a wonderful day celebrating veterans today at PHS! This morning we hosted a breakfast for our local veterans. Student Council ran the serving line, and the staff of The Sapphire interviewed our local veterans.  During the assemblies throughout the day we featured biographies of two veterans who work at PHS - Mrs. Just (US Army) and Mr. Murphy (US Navy).  Our Social Studies Department also gave a presentation on Veterans contributions to democracy (1931-1950).  Our guest speaker for each assembly today was a Green Beret raised right here in Pickens - US Army Major, Marcus Bridges. Senior Adam Marsh performed "Taps" to round out the Veterans Day Program. Thank you to all the veterans, students, faculty, staff and community members who were part of our Veterans Day Celebration! A special thank you to all of our veterans who have served our country. We, here at PHS, greatly appreciate your service.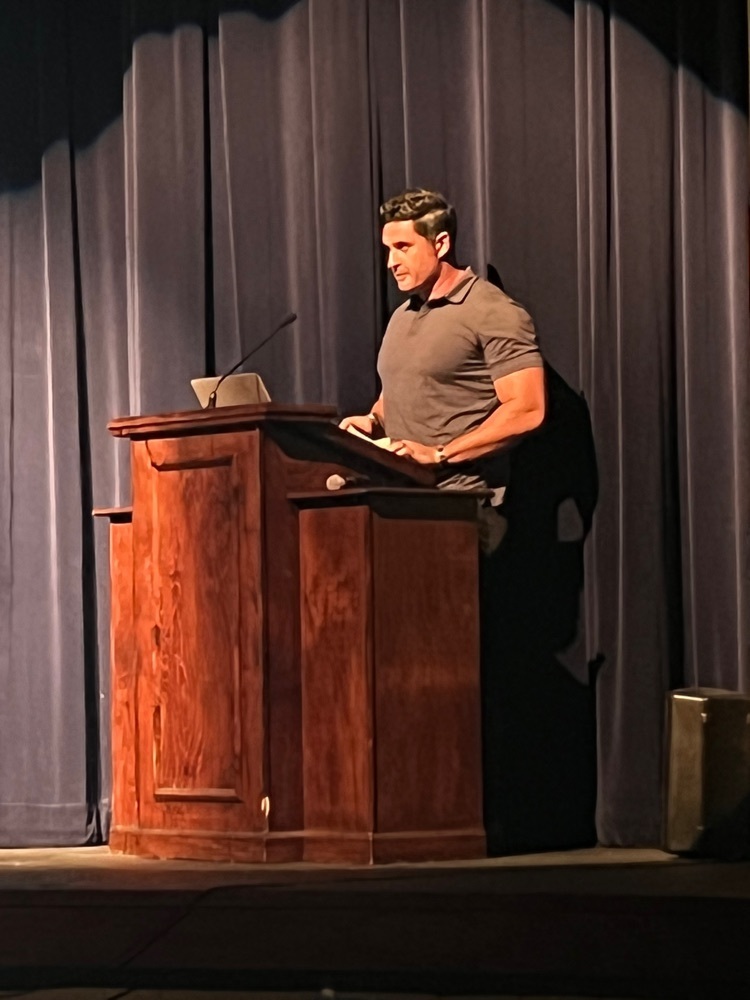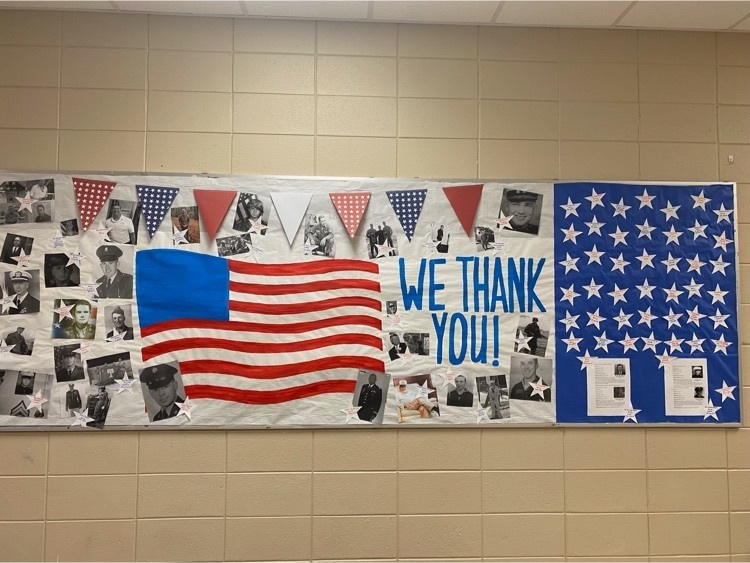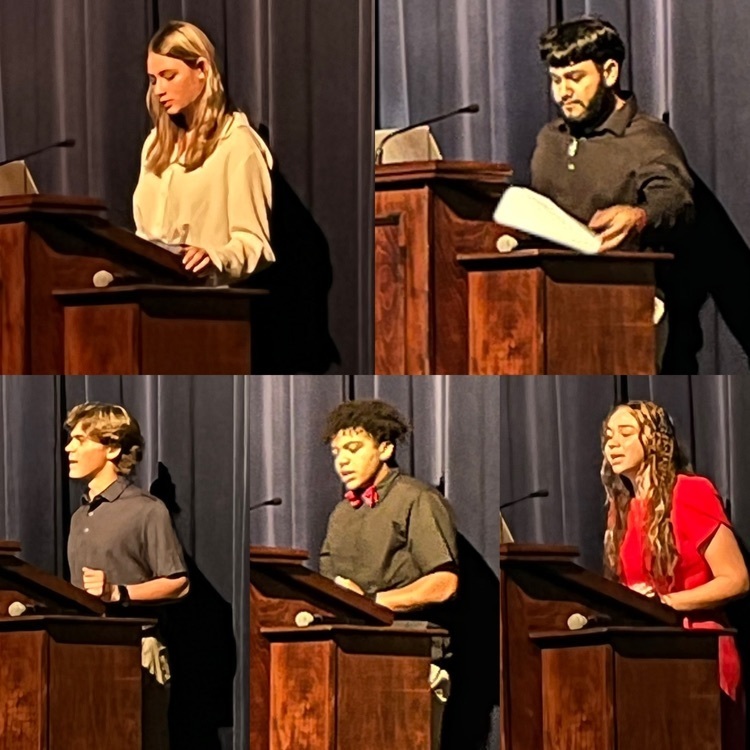 November SIC Meeting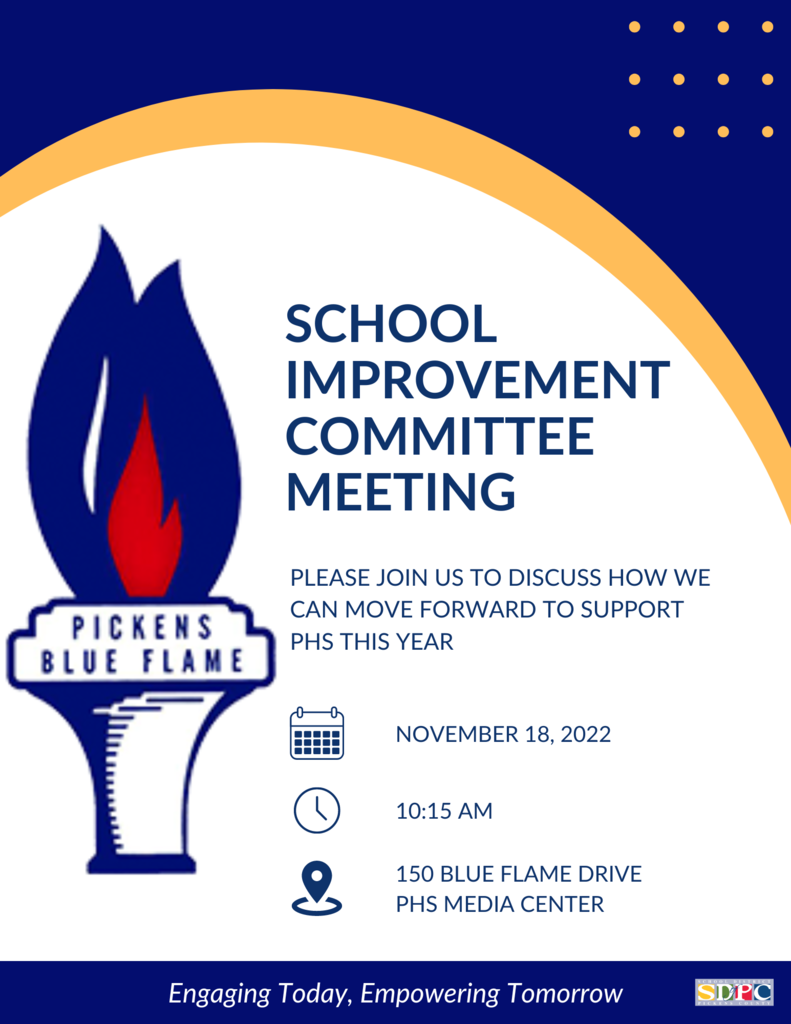 Today is the last day to nominate a teacher in SDPC to participate in the Extra Yard for Teachers challenge. In partnership with Eckrich, the Extra Yard for Teachers is giving teachers the chance to win $1 Million to fund classroom resources! If selected, your teacher will be able to participate in the throw during the Clemson University vs. Miami game on November 19, 2022, where they will be eligible to win $1 million to fund classroom resources. Nominate a teacher today at: bit.ly/3A45Yrk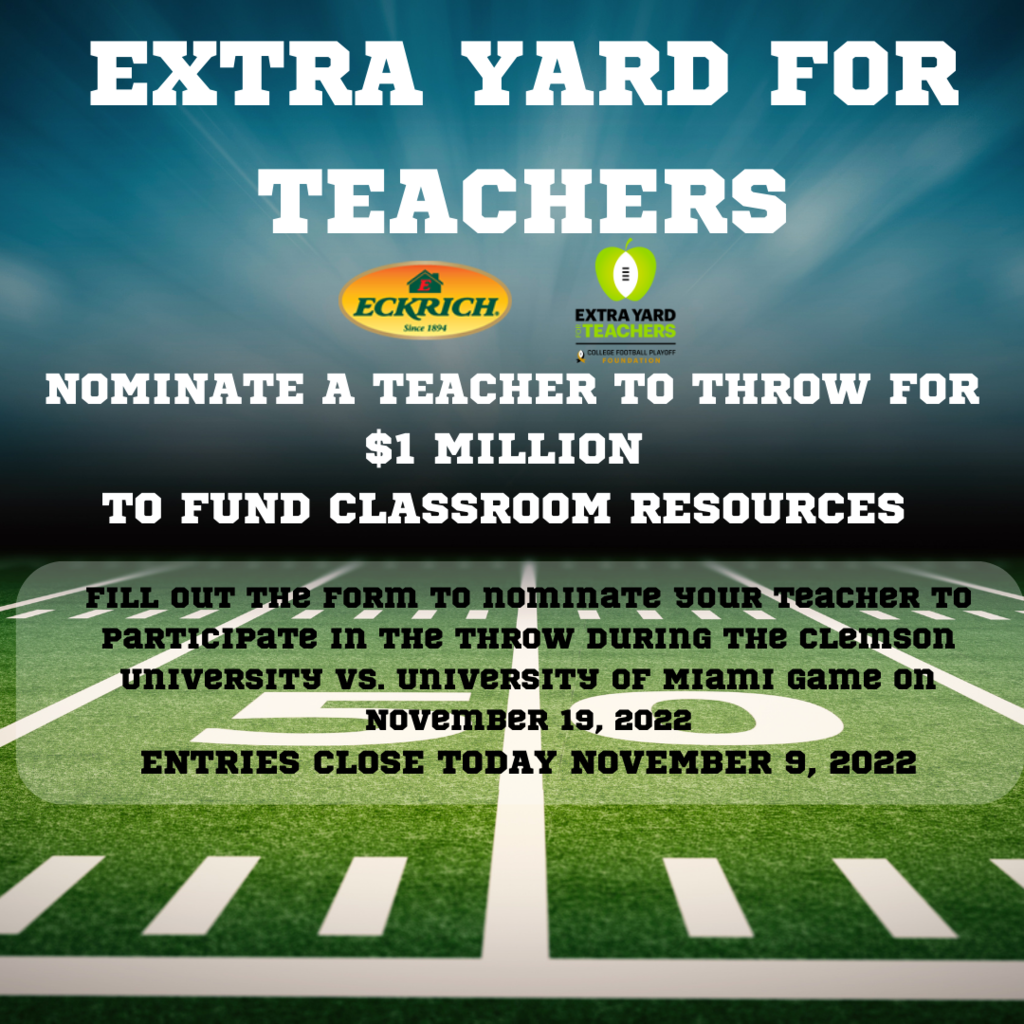 PHS SENIOR LEAVES IT ALL ON THE FIELD AND BECOMES SCHOOL WINNER IN THE HEISMAN HIGH SCHOOL SCHOLARSHIP COMPETITION. The Heisman Memorial Trophy is annually awarded to the most outstanding college football player in the nation. The Heisman High School Scholarship extends the Heisman prestige to our nation's most esteemed high school seniors by recognizing and rewarding outstanding scholar-athletes who understand that the most important victories not only happen on the field, but in their schools and communities. These remarkable young leaders set the example and make a game-changing difference every day, paving the way to greatness for everyone around them. To apply, students must be graduating with the class of 2023, have a cumulative weighted high school grade point average of a B (3.0) or better, participate in at least one of the sports recognized by the International Olympic Committee, the Paralympic Games and/or the National Federation of State High School Association and be a leader in his/her school and community. Congratulations, Lexi. We are so proud of your accomplishments on and off the field! #goblueflame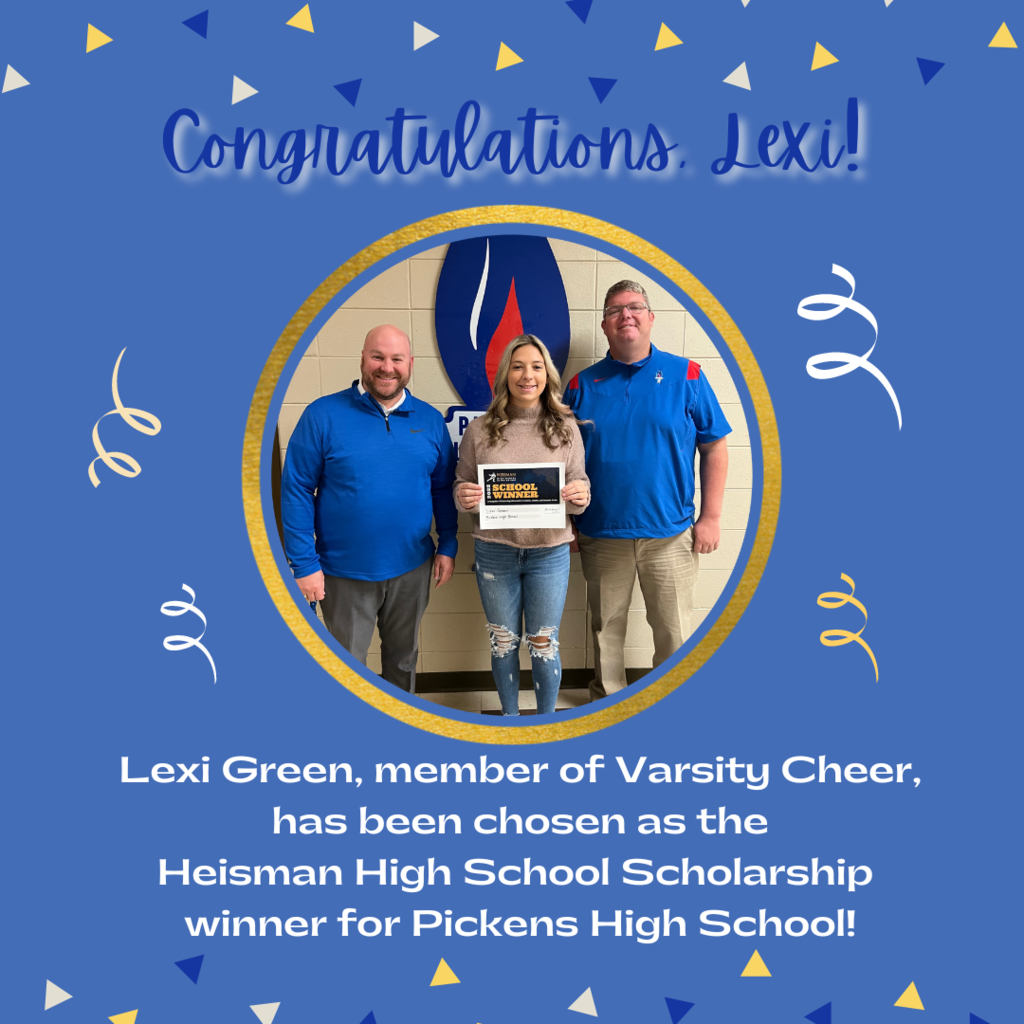 Our Lady Blue Flame Golf team is set to tee off for the second day of state championships. The team is currently in 1st place by 10 strokes! Go Blue Flame!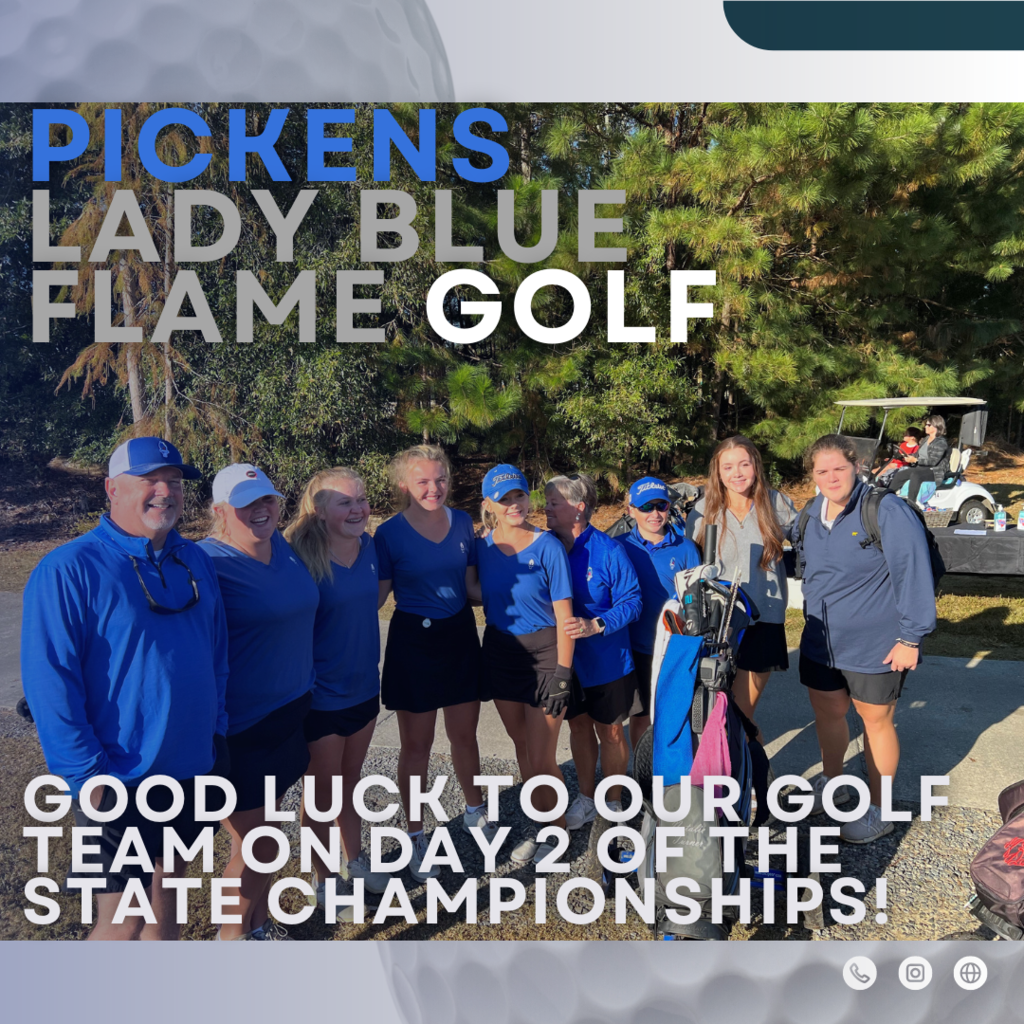 Congratulations to our Male and Female Scholar-Athletes of the Month: Liam McCall and Emerson McCall. Liam and Emerson are both members of the Cross Country team. Student-athletes were recommended by their teachers, and a committee reviewed the nominations to determine this month's recipients. This month's Scholar-Athlete awards are sponsored in honor and memory of those affected by breast cancer. Participating donors for this month include Dr. Hicks, Mrs. Hodges, Ms. Rucker, Mrs. Underwood, and Coach and Dr. Butler. We are proud of our student-athletes for demonstrating excellence in the classroom! #goblueflame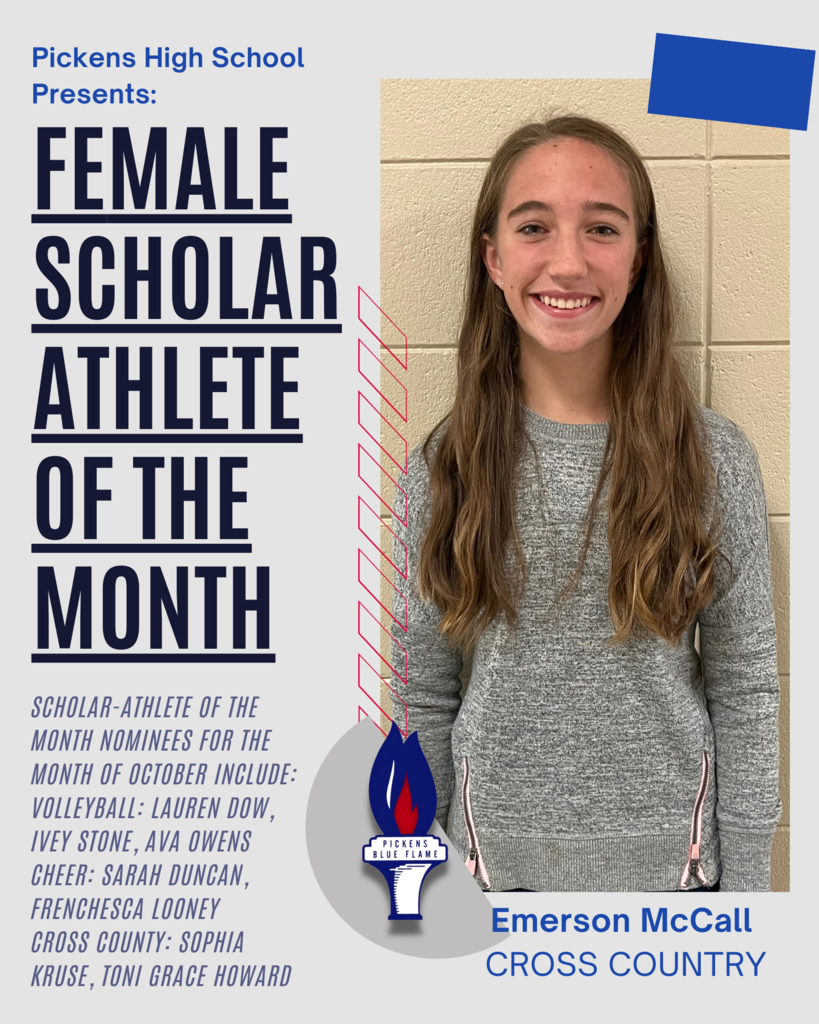 HOMECOMING 2022 Pickens vs Berea 7:30 PM Tickets at the gate, $8 See you there!

Ticket Link: Phsarts.ticketleap.com/clue/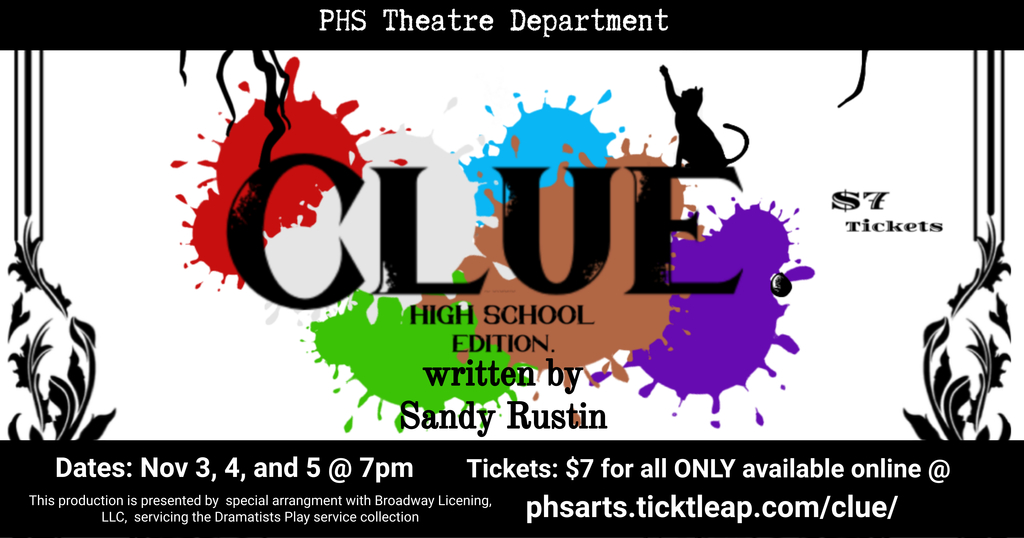 Congratulations to our Varsity Volleyball team! They are 10-0 in the region! Come out and watch their last regular season match at home tonight against Cardinal Newman at 6:30!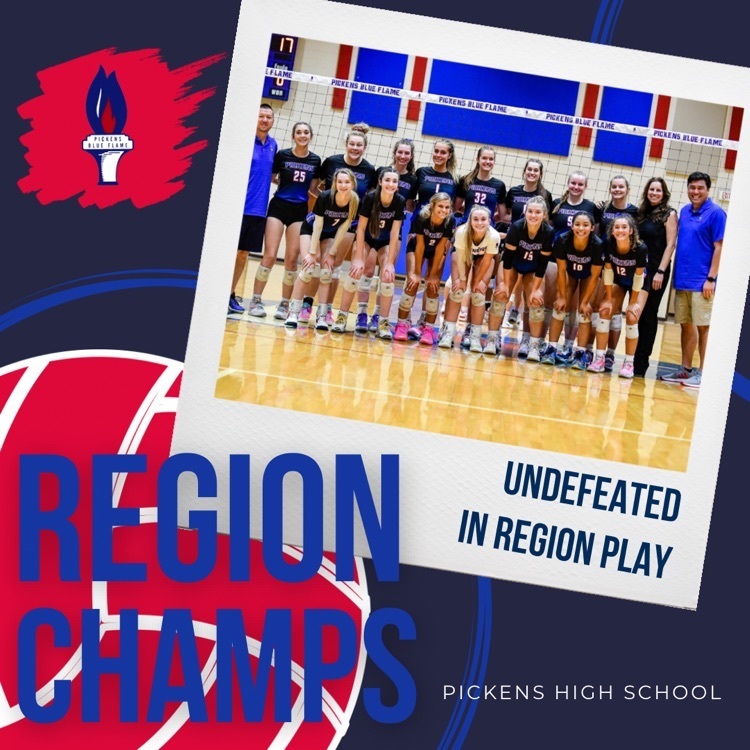 See you then!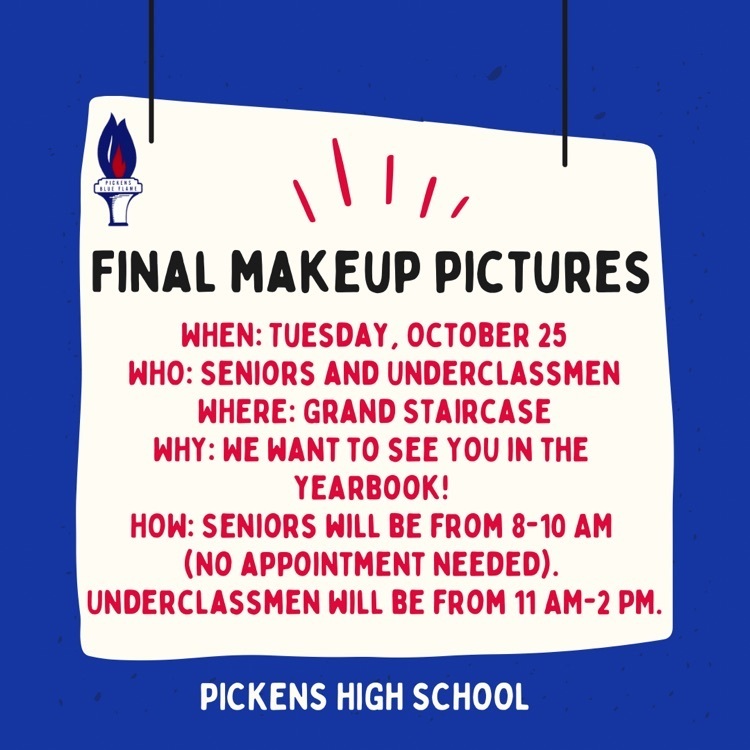 We want to wish our Band and Color Guard students, staff and parents GOOD LUCK this weekend at their Bands of America Championship in Johnson City, TN! #goblueflame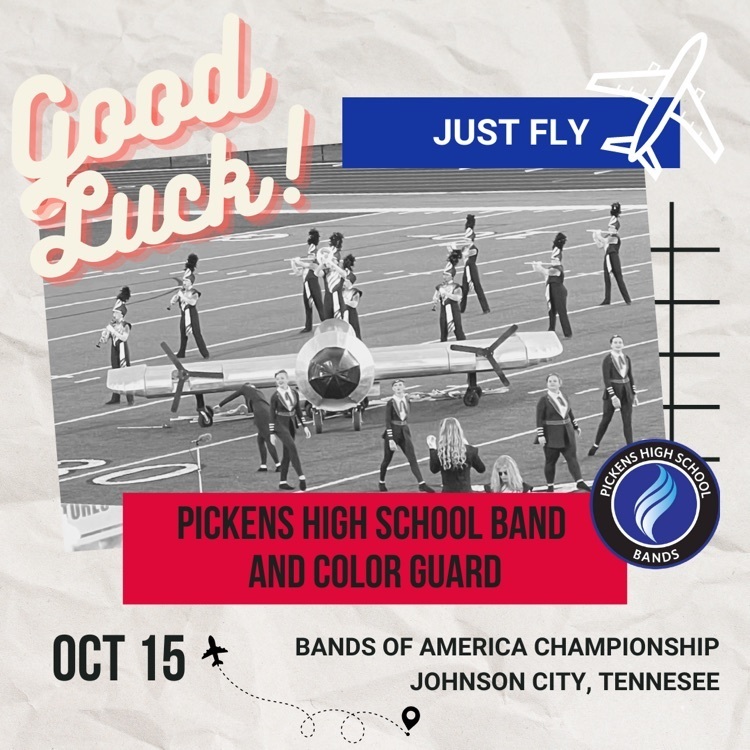 Come out and cheer on your Varsity Football team at Greenville High School tonight! There is a clear bag policy and tickets will be online only. Tickets:
https://gofan.co/app/school/SC950